Hosting Google Analytics locally can help speed up your site by reducing extra DNS lookups and resolving the "leverage browser caching" issue from their script.
Ironically Google's own script throws a warning about caching, but this is because they have their HTTP caching header expiration set really short. When you host it yourself, your own CDN or server's HTTP caching headers will automatically be applied. In other words, you have full control over the caching of the script.
Hosting Google Analytics locally and serving the script from your own CDN or server also lets you take advantage of a single HTTP/2 connection.
Note: This is not officially supported by Google, but we have been doing this for years without any issues.
Enable Local Analytics
To enable Local Analytics, follow the steps below.
Step 1
Click into the Perfmatters plugin settings.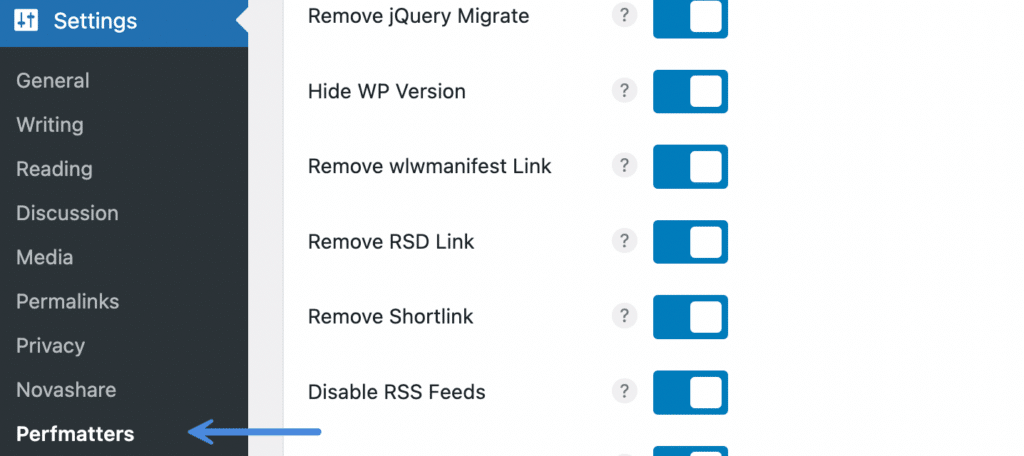 Step 2
Click on the "Analytics" tab.

Step 3
For local analytics to work correctly, you will need to at least input your tracking ID. If you're using gtag.js v4, it's called a measurement ID. Then select "Enable Local Analytics."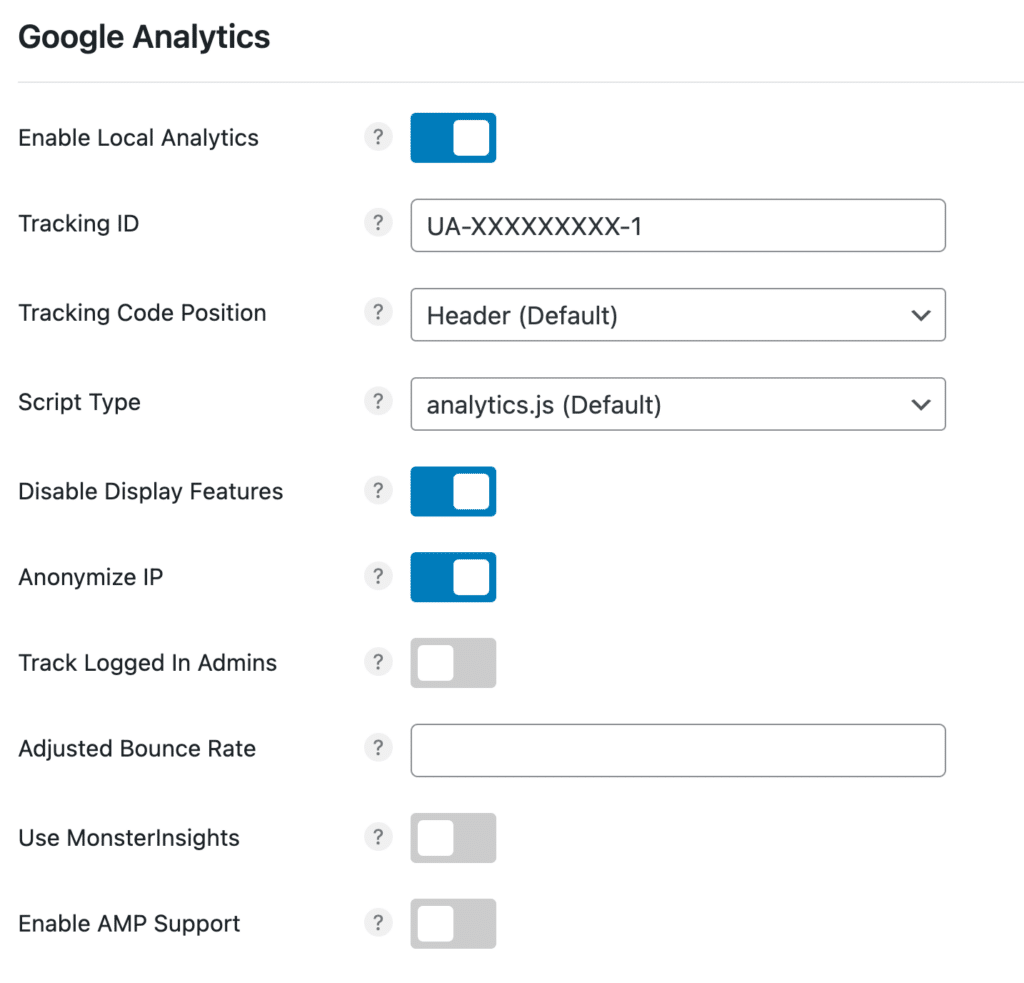 Step 4
Scroll down and click "Save Changes." Make sure to also clear your site's cache.
Our plugin uses a CRON job that runs once daily to grab the latest copy of the latest Google Analytics script from their servers.
Important: Don't use this feature with other Google Analytics plugins, otherwise you might load the script twice which could skew your data.
Tracking ID
Input your Google Analytics tracking ID. If you don't know your tracking ID you can find it here.
Tracking code position
Load your analytics script in the header (default) or footer of your site.
Google Analytics advises you load the script in the header of your site. But this is simply to prevent any issues if someone aborts loading the page (in rare cases it might not fire). If you have a fast loading site, loading GA in footer is completely fine and won't impact your page view counts. In fact, we load GA in the footer on all of our sites.
Performance tip: Take advantage of our Delay JavaScript feature to prevent Google Analytics from loading any requests until user interaction.
Script type
Perfmatters has four different script types for hosting analytics locally on your WordPress site:
analytics.js
analytics.js is 18.4 KB and is the standard Google Analytics script with all features included. This is the default option. It's hosted locally and will be cached in your browser and on your CDN.
It doesn't collect demographics or interests data.
gtag.js v4
gtagv4.js is 51.5 KB and is the latest version of Google Analytics. This allows you to track events and outbound clicks without any additional code and uses Google's brand new analytic's interface. (How to find your measurement ID)
gtag.js
gtag.js is 39.3 KB and is a slightly older version of Google Analytics. The one downfall to this method is that it also loads a 19.5 KB analytics.js file. But both of these scripts will be locally hosted. This method is the most compatible with third-party solutions and is still the most widely used approach. (How to find your tracking ID)
CDN
You can use your CDN URL when referencing analytics.js from inside gtag.js. Example: https://cdn.example.com
Minimal
Minimal analytics (analytics-minimal.js) is a smaller and optimized open source script that is only 1.5 KB. Reporting for page views, users, locations, devices, traffic sources, and real-time all will work fine. However, it doesn't have all of the features of analytics.js. One of those would be site speed monitoring. It also doesn't collect demographics or interests data.
For a lot of WordPress users, minimal analytics is a great fast option because we've found that many don't use a lot of the extra data that Google Analytics provides, they simply want to see things like visits and traffic sources.
This file is hosted locally and will be cached in your browser and on your CDN.
Minimal Inline
Minimal inline is the same code from analytics-minimal.js, it's simply loaded inline on your site. This will reduce an HTTP request for the file, but also increase the total size of your HTML page.
Note: Both minimal analytics options will generate a request to https://www.google-analytics.com/collect. This is simply a way to send Google the reporting data. Unfortunately, you can't host that part locally and it's required with this method. However, both minimal options will still be much faster due to the smaller script file size.
Disable Display Features
Support: analytics.js
Disable remarketing and advertising which generates a 2nd HTTP request to DoubleClick.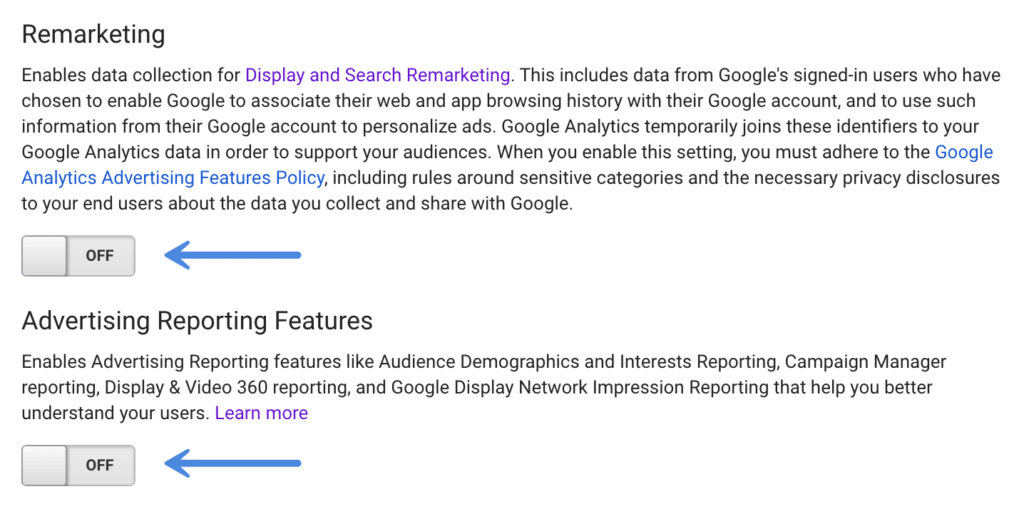 Anonymize IP
Support: analytics.js, Minimal, and Minimal Inline
Hide your IP to comply with privacy restrictions in some countries.
In Google Analytics 4 (gtag.js v4), IP addresses are automatically anonymized.
Track logged-in admins
Support: analytics.js, Minimal, Minimal Inline, gtag.js v4, and gtag.js
Include logged-in WordPress admins in your Google Analytics reports.
Important: If you leave this off, you won't see the analytics script when you're logged in as an administrator on your site. But you can confirm your script is running by checking for it when you're logged out or in incognito mode.
Adjusted bounce rate
Support: analytics.js
Set a timeout limit in seconds to better evaluate the quality of your traffic. (1-100) We personally use 30 seconds. Read more about why you might want to use adjusted bounce rate.
Google Analytics 4 has discontinued bounce rate and moved to engagement rate.
Use MonsterInsights
Support: gtag.js
MonsterInsights is a popular plugin used by over 2 million users to add Google Analytics to WordPress. You can now use MonsterInsights along with Perfmatters. It enables you to host the Google Analytics script (gtag.js and analytics.js) locally while still being able to take advantage of the awesome MonserInsights features like GA event tracking.
It's important to note that when the MonsterInsights option is enabled, all additional Google Analytics settings are then handled by their plugin, not Perfmatters. For example, excluding admin users from being tracked, anonymize IP addresses, your tracking ID, all need to be set in MonserInsights.
You still need to toggle on the "Enable Local Analytics" option and input your tracking ID to use this integration. When MonsterInsights is enabled, Google Analytics in Perfmatters is automatically disabled, so you don't need to worry about the script loading twice.
Enable AMP support
Support: analytics.js, Minimal, Minimal Inline, gtag.js v4, and gtag.js
Enable support for analytics tracking on AMP sites. This is not a local script, but a native AMP script.
GDPR
If you're looking for a good cookie solution (opt-in consent) that works with Perfmatters Analytics, we recommend the Real Cookie Banner. The pro version of their plugin has an integration with Perfmatters (gtag.js, gtag.js v4). Note: This doesn't work with our Delay All JS option.
Troubleshooting analytics
When you are hosting your analytics locally, Google's Tag Assistant Chrome extension won't pick up analytics running on your site. This is completely normal, as they are only looking for it on their servers.
An easy way to confirm that Google Analytics is working is to open up a browser in Incognito Mode and visit your site. Look at the "Realtime" view in Google Analytics, and you should see yourself show up.
Site Kit by Google
You can use Site Kit by Google alongside the Local Analytics implementation in Perfmatters. Just make sure you go into the advanced settings in Site Kit and toggle off the option to "Let Site Kit place code on your site."
Running multiple profiles
We don't support collecting analytics data to a new GA v4 profile and an old one simultaneously. This is due to a technical limitation with how Google deploys its containers. You need to use one or the other. If you connect your old profile to your new one in Google Analytics, it might also break our local hosting implementation and cause your analytics not to work. You can disconnect it at any time if needed. Also, running two profiles has a negative performance impact.